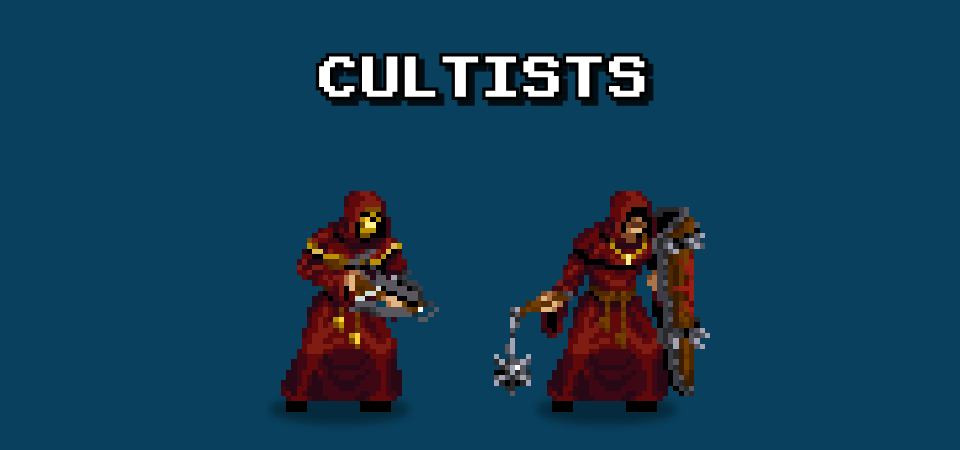 Cultists
A downloadable asset pack
Cultists
---
Cultist:
🔹 Idle 8 frames
🔹 Walk 12 frames
🔹 Attack 18 frames
🔹 Jump 3 frames
🔹 JumpToFall 3 frames
🔹 Fall 3 frames
🔹 Hurt 3 frames
🔹 Death 11 frames
Cultist Crossbow:
🔹 Idle 8 frames
🔹 Walk 12 frames
🔹 Attack 17 frames
🔹 Jump 3 frames
🔹 JumpToFall 3 frames
🔹 Fall 3 frames
🔹 Hurt 3 frames
🔹 Death 11 frames
🔹 Bolt 4 frames
A total of 125 hand drawn frames. Also includes multiple color palettes & death animations without blood.
⭐ Ratings & Downloads are much appreciated
⚡ Interested in more art? Check out my Assets here
Created by Sven
Also Check Out:
You can use this asset in any game project you want, commercial or not, but you can't resell it as just an asset (as I'm doing here).
Purchase
In order to download this asset pack you must purchase it at or above the minimum price of $15 USD. You will get access to the following files:
Comments
Log in with itch.io to leave a comment.
What size are these sprites?
I could even buy it if you added these essets in a higher resolution (for example in a vector style). Can we expect any promotion in the near future?
You can easily resize the sprites and keep their orginal quality by always increasing with the original frame resolution. So for example frame size 64x64px -> 128x128px -> 192x192px -> ...
As of right now I'm not planning on discounting this. Considering the amount of time and hard work spent creating this I see 15$ as a fair price. But for future months, yes it will be included in bundles.
So glad to see you back and you evn brought the cultist I've been eyeing from your tweets with you :). Can we expect this to be part of a future bundle with your previous work?
Thank you for following my work! I appreciate it a lot. I'm not planning on bundle this at this moment. But for the future, yes! I will do my best to work out some kind of solution to make it so that Itch discounts the future bundle if you were to buy this now
Looking good! Can't wait to see what else you're getting ready for the store. :)